Salmon Cat Food: 9 Favorite Fishy Formulas
When feeding our feline friends, we may be inclined to stick to traditional animal protein sources like chicken, beef, and turkey. But as pet food trends shift towards more natural and healthy options, many pet parents are wondering if cats might also benefit from salmon cat food [1]. 
Salmon is a popular human health food since it's typically low in fat and high in nutrients, like Omega-3 and Omega-6 fatty acids. According to Dr. Alejandro Caos, DVM, at TheVets, salmon can be an equally healthy choice for cats. However, there's just one caveat: Salmon isn't a complete protein on its own, as it doesn't contain enough essential amino acids, such as taurine, says Dr. Caos. Therefore, it should always be paired with another protein source to ensure your cat gets all the essential amino acids they need. 
Keep reading to explore the benefits of salmon cat food, as well as our recommendations for the best salmon cat food for cats of every age.
Our Picks
How We Chose
 

Our Selections
In addition to guidance from our experts, we considered the following when selecting our favorite salmon cat food picks:
Protein. We zeroed in on the ingredients of each option to ensure that they have the AAFCO stamp of approval and provide a complete, balanced meal.
Texture. Because we know different kitties prefer different types of food, we tried to include a nice mix of wet and dry options for you to choose from.
Reviews. We checked out pet parent reviews to get their take on each selection, highlighting their likes, as well as their occasional dislikes.
Price. While some of the foods on our list may be at the higher end of the price spectrum, we included some lower-cost options as well.
Best Salmon Cat Food: 9 Top Picks
All featured products are chosen at the discretion of the author. However, Vetstreet may make a small affiliate commission if you click through and make a purchase.
Ready to find a salmon cat food option for your fluffy feline? Here are our favorites.
Best Dry Salmon Food
Our pick: Open Farm Rustic Salmon Dry Cat Food
Dr. Caos says it's important to know what type of fish your cat eats and where it comes from, since large predatory fish like tuna may contain mercury and other contaminants [2]. One of the many reasons we like this option from Open Farm is because its ingredients are 100 percent traceable. According to the brand, this grain-free dry cat food recipe is made with wild-caught salmon from Alaska, herring from Mexico, and whitefish from Washington and Alaska. Cranberries from Wisconsin provide antioxidants and Vitamin C, while chickpeas from North Dakota are a fantastic source of protein, iron, copper, zinc, and magnesium. 
Pros
100 percent traceable ingredients
Grain-free recipe
Fruits and vegetables are non-GMO
Also comes in a wet food variety 
Meets AAFCO recommendations for all life stages
Open Farm is a certified

 

Ocean Wise

 

brand, which means they practice sustainable fishing practices 
Cons
At 470 calories per cup, this is one of the most calorie-dense picks on our list
Higher price point 
Best Wet Salmon Food
Our pick: Fromm Chicken, Duck, and Salmon Canned Paté
Cats that don't drink enough water may benefit from canned food since it contains more moisture than dry food; plus, some kitties just prefer the soft texture. Fromm is a family-owned business that makes and cans all its food in privately owned and operated facilities. In addition to salmon (which is an excellent source of lean protein and healthy fatty acids), this recipe includes other nutritious ingredients like chicken liver that provides essential nutrients to support the metabolism, as well as dried eggs that offer essential amino acids for skin, coat, bone, and brain health. 
Pros
Hydrating formula
Contains a delicious mix of salmon, chicken, and duck
No artificial colors, flavors, or preservatives
Privately owned and operated Wisconsin-based facilities
Company employs a full-time nutritionist with an MS degree in animal nutrition
Meets AAFCO recommendations for all life stages
Cons
Best Chicken and Salmon Cat Food
Our pick: Rachael Ray Nutrish Indoor Complete Chicken, Lentils & Salmon Recipe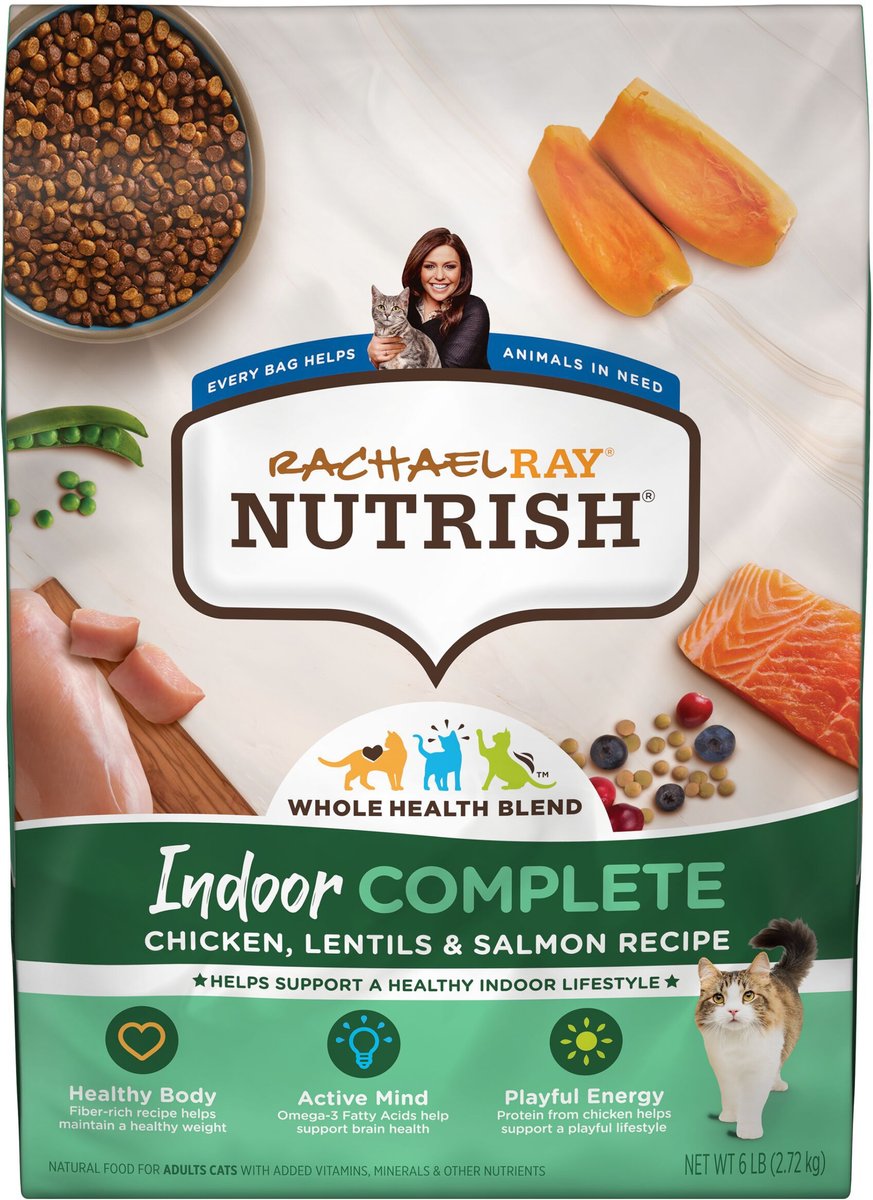 Because salmon should always be paired with another protein for your cat's food to be complete, we often see it combined with chicken. We love that this recipe not only features a complete and balanced mix of chicken, chicken meal, chicken fat, and salmon, but also contains additional fiber-rich ingredients like pumpkin to help keep your cat feeling full between meals. Have a kitty that's not into chicken? No prob! Rachael Ray Nutrish offers a turkey, salmon, and chickpea recipe as well.  
Pros
Good choice for weight management
Omega-3 fatty acids help promote brain health
No artificial colors or preservatives
Meets AAFCO recommendations for adult cats
Additional salmon recipes to choose from
Cons
This recipe was recently reformulated to include Nutrish® Whole Health Blend, which is a blend of omega-3 fatty acids from fish oil, lean protein, and whole grains. Some pet parents say the transition of formulas caused digestive upset in their cats 
Best Salmon Paté Wet Cat Food
Our pick: Beyond Grain Free Wild Salmon Recipe Paté Wet Cat Food
The salmon in this recipe is served alongside fish broth, chicken, and liver, making it a beautifully balanced paté that's low in calories. Plus, it's free from grains and corn, as well as artificial flavors, colors, and preservatives. We selected the canned variety of this recipe due to its high palatability and water content; however, it's also available in kibble form if your cat prefers dry food. 
Pros
99 calories per can
No grains, corn, or artificial flavors, colors, or preservatives
Meets AAFCO recommendations for adults
Company employs full-time veterinary nutritionists
Marine Stewardship Council

 

certified, which means sustainable fishing practices were used to source the salmon
Cons
Best Budget Salmon Cat Food
Our pick: Purina Fancy Feast Salmon Feast Classic Grain Free Wet Cat Food Paté 
A staple in the cat food community, Purina Fancy Feast offers a variety of delicious dry and wet foods at a reasonable cost – including this savory salmon paté recipe. While salmon is the number one ingredient, liver, and poultry can also be found in this grain-free recipe for added protein. Pet parents rave about how much their cats love it, and you can't beat the price!
Pros
Great price point
Includes other protein sources in addition to salmon for a 100 percent complete and balanced meal
Formulated without artificial flavors or preservatives
Meets AAFCO recommendations for all life stages
Cons
According to customer reviews, this may not be the best option for pickier cats
Best Salmon Kitten Food
Our pick: BLUE Wilderness Salmon Natural Kitten Paté
Salmon and chicken are the first two ingredients in this paté made for your growing carnivore. The formula is also tailored to support kittens' growth needs, with DHA from fish oil for healthy development of the brain and eyes, balanced minerals for strong bones and teeth, and high-quality protein for strong muscles.
Pros
Smooth paté is easy for kittens to eat
Formulated without corn, wheat, or artificial flavors or preservatives
Brand employs a full-time nutritionist with a Ph.D. degree in animal nutrition
Meets AAFCO recommendations for kittens
Cons
Not ideal for kittens who don't like/can't tolerate chicken
Best Weight Management Salmon Cat Food
Our pick: Nulo Freestyle Adult Trim Cat Food
"Fish is generally lower in fat than other animal protein sources such as beef or pork, which can make it a good choice for cats that need to lose weight or are prone to obesity," Dr. Caos says. In fact, there are several lean proteins in this low-calorie, low-carb option from Nulo, including chicken, turkey, and deboned cod, in addition to salmon. L-carnitine is also included as a fat-metabolizing ingredient, while the BC30 probiotic promotes healthy gut flora to help with digestion.
Pros
Made with lean proteins, L-Carnitine, and BC30
Low in calories and carbohydrates
Meets AAFCO recommendations for adult cats
Brand employs a full-time nutritionist with a Ph.D. in animal nutrition 
Cons
There's no wet variety of this recipe
Higher price point
Best Salmon Cat Food for Sensitive Stomachs
Our pick: Hill's Adult Perfect Digestion Dry Cat Food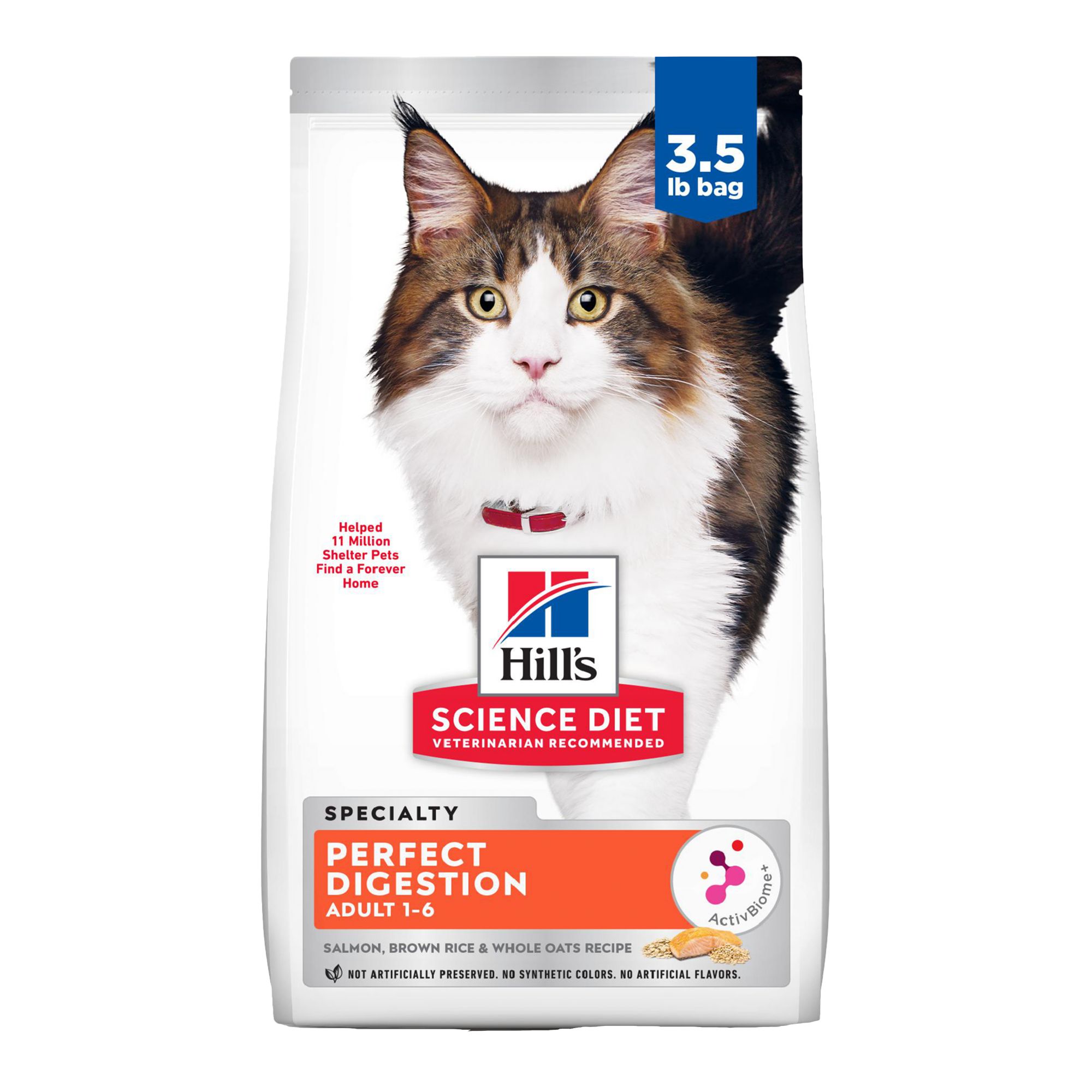 For cats with sensitive stomachs, this salmon formula contains a special blend of prebiotics, whole-grain oats, and pumpkin to help feed your cat's natural gut microbiome and regulate digestion. Plus, the naturally occurring fatty acids from salmon, which is the number one ingredient, may decrease inflammation of the gut, helping your furry friend feel their best [3]. Plus, according to the brand, your cat will have more regular, healthier stools within seven days of fully transitioning to this food. 
Pros
Salmon is the number one ingredient
Contains ActivBiome+, a specialized blend of prebiotics, whole grain oats, and pumpkin for a healthy gut
No artificial flavors, colors, or preservatives
Meets AAFCO recommendations for adult cats
Employs full-time veterinary nutritionists
Cons
This recipe includes chicken fat and chicken meal, so it's not ideal for cats with chicken allergies
Not suitable for kittens
Best Salmon Cat Treats
Our pick: A Better Treat Wild-Caught Freeze-Dried Salmon Treats
Treats shouldn't be any cat's main source of calories and nutrients, but they can be a rewarding and nutritious addition to your kitty's regular meals, Dr. Caos says. He adds that skin-on salmon treats, like this option from A Better Treat, are a natural source of protein, Omega-3 fatty acids, and vitamins that benefit the skin, coat, and overall health of your cat. The single-ingredient treats are made in Los Angeles, California.
Pros
Only one ingredient: freeze-dried wild-caught Alaskan salmon
Omega-3 fatty acids and vitamins for a healthier skin and coat
Good for dogs too
Made in the USA
Cons
Not meant to be a full meal for your cat. Treats shouldn't make up more than 10 percent of your cat's daily calorie intake 
Salmon Cat Food
FAQs
Let's break down a few of the most commonly asked questions about salmon for cats.
Can Cats Eat Salmon?
"Fish is not only an appropriate food for cats, but may be the food with the greatest value," says Dr. Michael Fleck, DVM, The Animal Medical Center of Bradenton. Fish is rich in omega fatty acids, which are "healthy fats" that can be obtained through our diet. According to Dr. Caos, omega fatty acids are essential for the development of eye and brain functions in kittens and can have important health benefits like improving immune function and reducing inflammation. That's why both experts often recommend diets rich in fatty acids — such as commercial salmon cat foods — for cats with arthritis, heart disease, and certain skin conditions.
Dr. Caos adds that fish is also lower in fat than other readily available proteins, so it can be a good choice for weight management diets.
Can Cats Eat Canned Salmon?
Canned salmon packed in water can be an occasional treat for a cat. Never give your cat salmon canned with salt, oils, spices, sauces, or other ingredients that could be harmful. Opting for salmon treats or freeze-dried single-ingredient treats for pets is generally a better choice that your cat may find tastier.
Can Cats Eat Salmon Skin?
Raw salmon skin and meat may harbor harmful bacteria and parasites, even if it's sushi or sashimi grade. You should always cook salmon to an internal temperature of at least 145 degrees Fahrenheit before serving it as a small treat; however, even cooked salmon skin can be a choking or gastrointestinal hazard since it's tough to chew and digest, Dr. Caos says. 
"If you do want to give your cat salmon skin as a treat, it's best to choose high-quality, commercially prepared salmon skin treats that are specifically made for cats," Dr. Caos says. "These treats are designed to be safe and healthy for cats, and they are typically made with carefully selected and prepared salmon skin to ensure that they are free from harmful bacteria and other contaminants."
Is Salmon Oil Good for Cats?
Unlike whole salmon, salmon oil is a concentrated dose of Omega-3 and 6 fatty acids. However, since complete and balanced diets with an AAFCO label contain the Omega fatty acids your cat or kitten needs, it may not be necessary to supplement with salmon oil. "It's best to consult with your veterinarian to determine if supplementing your cat's diet with Omega fatty acids is appropriate and what the optimal dosage is," Dr. Caos says. 
Can Cats Be Allergic to Salmon?
Fish is one of the most common food allergies in cats [4]. According to Dr. Caos, symptoms of food allergies in cats may include: 
Itchy skin, especially around the face, ears, and paws
Redness, scabbing, or flaking of the skin
Respiratory issues such as coughing and wheezing
Digestive upset
The symptoms of food allergies in cats may resemble those of other conditions, so talk with your veterinarian to rule out the underlying cause. 
Salmon Cat Food
Buying Guide
When shopping for nutritious salmon cat food, our experts say to keep these considerations in mind:
Nutrition
Cats are obligate carnivores, which means they require a diet that contains meat-based protein to get all their essential vitamins and nutrients, particularly essential amino acids such as taurine. 
Purchasing commercial cat food that meets or exceeds AAFCO's recommended nutritional standards ensures that the recipe is "complete and balanced" and your cat is receiving all the necessary nutrients for their life stage. However, if you choose to buy cat food from a specialty brand or prepare it at home, it's crucial to keep in mind that fish protein alone does not provide complete nutrition, so a second protein source must be included in the recipe. 
As far as treats go, when not made of a single-ingredient protein, only purchase cat treats that are made especially for them. "Some treats marketed for dogs may contain ingredients that are harmful or inappropriate for cats," Dr. Caos says. 
Texture
Salmon cat food comes in a variety of formulas, including wet, dry, and dehydrated raw. The texture you choose depends on availability, your budget, and your cat's preferences. If your cat has any medical conditions, talk to your veterinarian about the right type of food. 
Cost
Cost doesn't always correlate with quality. While ingredients like byproducts and meat meals get a bad rap, they're nutritious sources of protein that keep pet food costs down [5]. Therefore, nutritious cat food can be found at all price points.